WATCH: Six alarm recycling plant blaze under control
Toronto Fire expects to be on scene of a six-alarm blaze in the Port Lands for several days.
The fire broke out just before 1 a.m. Thursday at a recycling facility on Cherry Street south of Lakeshore and Parliament and sent smoke billowing over the city. Green For Life (GFL) which owns the plant says it houses a solid waste transfer station and a place to separate recycled materials.
Two GFL workers were checked out by paramedics but were ultimately found not to be injured. By 10 a.m, the fire had been downgraded to two alarms. By noon it was deemed to be under control.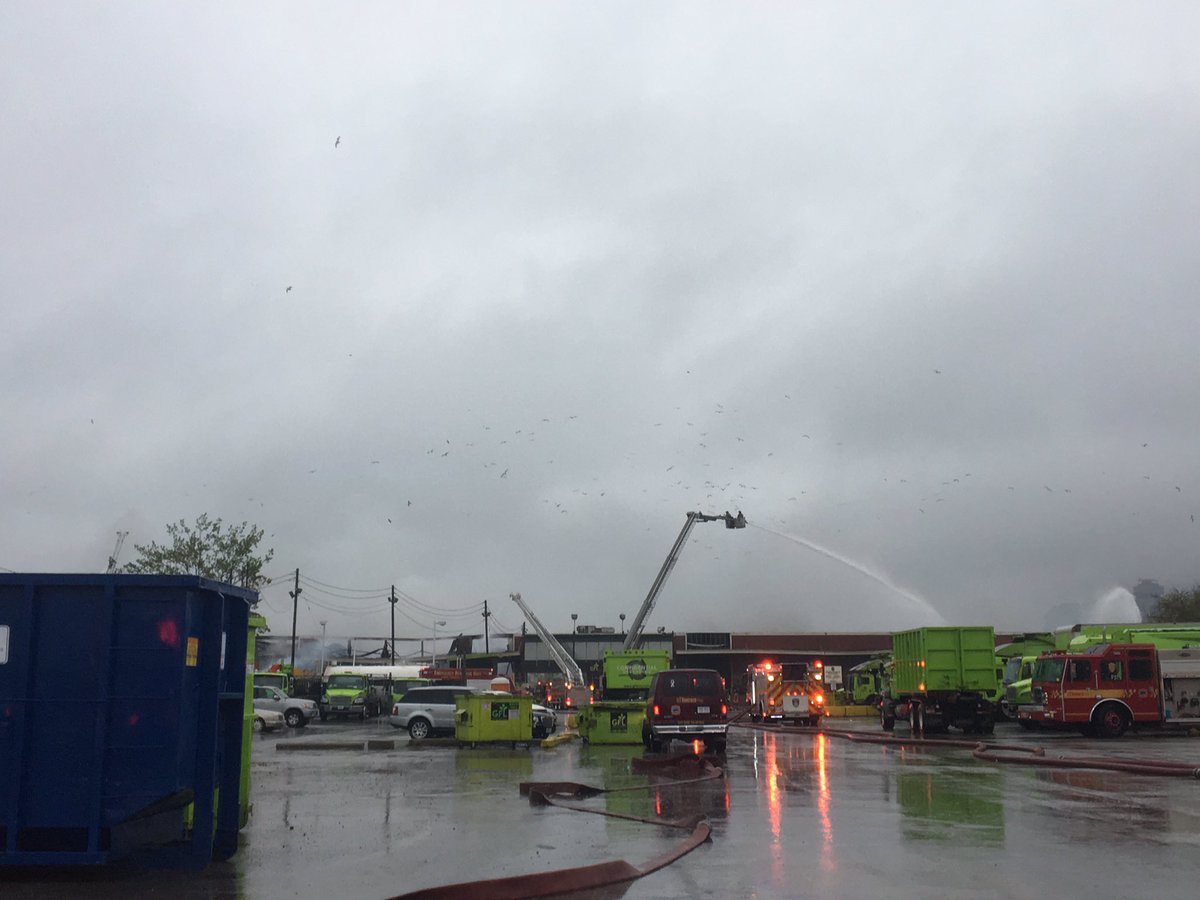 Heavy equipment has been used to help knock the blaze down. "Part of the challenge, of course, with recycling is that it forms a pile and eventually we have to take it apart piece by piece, put it out, take it apart, put it out," explains Fire Chief Matthew Pegg.
GFL, which collects curbside waste for the city of Toronto west of Yonge St insists there was no hazardous waste onsite.
Still, a hazardous material team along with representatives with the Ministry of the Environment have been on site all morning to watch for contamination of Lake Ontario and of the air.
"It's being monitored. We've had the conversation with the Ministry of Environment and we'll watch closely. This isn't uncommon in this type of facility. There's a lot of equipment that moves in and out all day long. I'm not overly concerned with what I see," adds Chief Pegg.
Siobhan Morris/NEWSTALK 1010
Jim McKay, General Manager of Solid Waste Management Services for the City of Toronto says today is your garbage day, your bins may sit at the curb a little longer.
"Waste collection vehicles have been rerouted to alternate facilities so customers should see minimal to impact to collection services today," McKay writes in a statement.
"Some collection times may be delayed throughout the day due to additional travel distances, however, we do anticipate that routes will be completed by the end of the day."
GFL says collection of commercial and industrial waste may be held up today but expects it to be back on track Friday.
Chief Pegg says they're doing their very best to watch for contamination into the lake but with a situation such as this, with a building on a pier and the volume of water that's flowing, the ministry will need to look into it.
The cause of the fire hasn't been determined.
Division Chief of Fire Investigations, Larry Coco, says there has been an area of interest identified. "We will be continuing to excavate the area of interest once the fire has been extinguished. Right now it's unsafe for my investigators to enter. We're currently in a holding pattern. Once the extinguishments occurs, then we'll continue to examine the area of interest where the fire originated."
"Considering the amount of fuel load in this structure; there's recyclables consisting of plastics and cardboard; there's an extensive fuel load, coupled with the fuel load in the adjacent building with all the mattresses. There's been a lot of damage in the area of interest, in the area of origin. We're going to continue examining once we have an opportunity to enter safely," Coco adds.
He hoped to enter the building later Thursday.
with files from Siobhan Morris