Here Are All The Ways You Can Pay Respect To The Humbolt Broncos
The tragic accident that took the lives of 15 people in Saskatchewan has rocked not only the country but the nation. There are many ways you can show your respect for the Humbolt Broncos.
1. Donate
The original goal for the GoFundMe page set up to raise money for the families of the Broncos was $1 million which then became 4 and right now it at the time of writing this article it is just under $10 million. This is the biggest crowdfunding record in Canadian history and is in the top 5 amount raised by a GoFundMe. Over 100,000 people have contributed and you can too!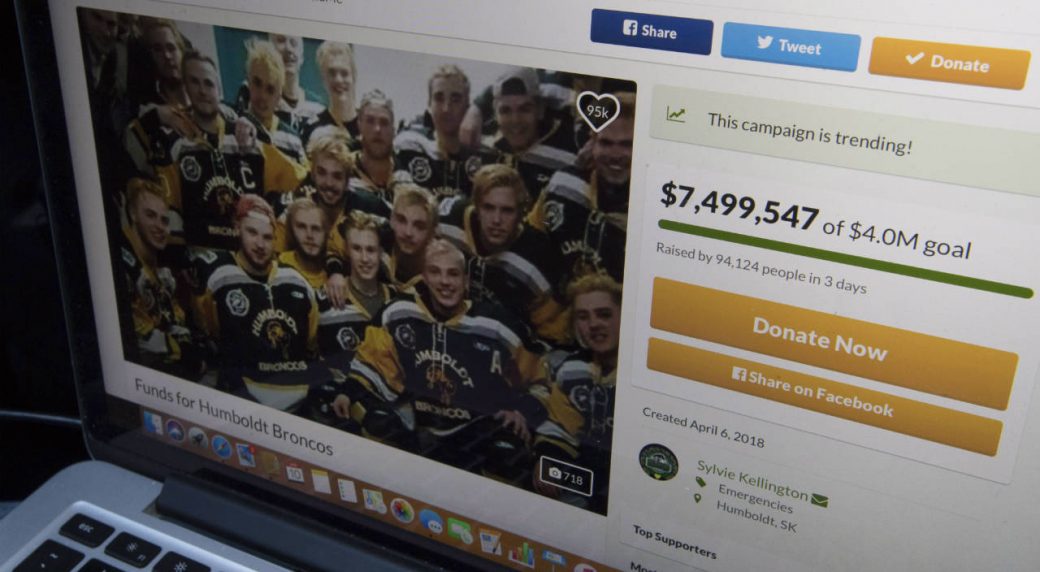 2. Wear A Jersey
April 12th has been named Jersey Day, with many people wearing jerseys to pay respect for the Humbolt Broncos but you can do so anytime to show you are keeping the players in your thoughts and prayers.
3. Leave A Hockey Stick Outside Your Front Door
A simple act like leaving a hockey stick outside your front door or place of work is a perfect way to show you are thinking about the lives that are lost.
4. Purchase A Tim Hortons Humbolt Donut
Tim Hortons right now is offering donuts with green and yellow sprinkles to honour the Humbolt Broncos. 100% of the proceeds are going to support family members.
6. Attend The Memorial At Rogers Place
The families of four Edmonton-area Humboldt Broncos players will host a public Celebration of the Lives of Jaxon Joseph, Logan Hunter, Parker Tobin and Stephen Wack at 1:00 PM MT on Tuesday, April 17, 2018 at Rogers Place. Family and friends of the four young men who tragically lost their lives in a bus crash last Friday will take the opportunity to share memories and celebrate the lives of these beloved sons, grandsons, brothers, friends and teammates.
Tickets are free of charge and can be reserved HERE. There is a limit of four seats per transaction.