Remembrance Day banners pay tribute to local armed forces members
The Remembrance Day street banners are on display in downtown Penticton, paying tribute to those who gave their lives in the First and Second World Wars. They depict the images of six local servicemen, showing their ranks, unit names and photographs.
The Penticton Museum & Archives has uncovered this information below about four of the six servicemen depicted in the flags, whose names are also found on the Penticton cenotaph in Veterans Memorial Park.
We remember those who gave their lives. Lest we forget.
Leonard V. Adams
Private, 10th Canadian Mounted Rifles (1895-1917)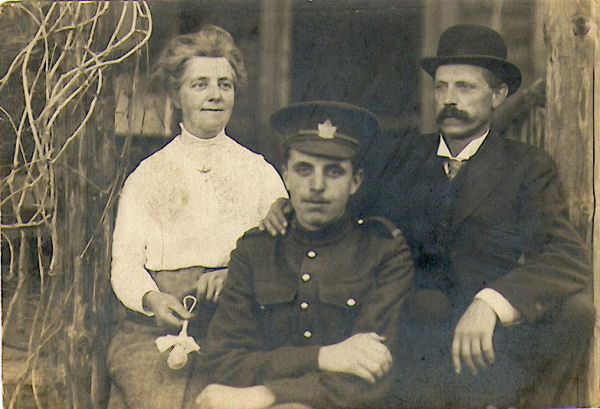 Leonard Adams was 20 years old when he enlisted in the Canadian Expeditionary Force. He was born in London, England and his family immigrated to Canada in 1909. He attended Pen High and, upon enlisting, gave his occupation as fruit grower.
Leonard joined the 2nd Canadian Mounted Rifles in January of 1916. This regiment was involved in intense fighting at the battles of Mount Sorrel and the Somme. In April, 1917, the 2nd CMR was sent to Vimy Ridge, where they were scheduled to attack on the morning of April 9th, 1917, along with all of the Canadian forces in France.
Leonard's regiment was successful, but suffered heavily from German artillery fire as they were consolidating their positions. He was likely killed at this time, but in the confusion and stress of battle, no-one could be sure exactly when he died. Leonard is buried at the Canadian Commonwealth War Graves cemetery at Neuville St. Vaast, France.
"Leonard was very much liked for his sunny disposition and good comradeship and his loss to the community is greatly deplored." – Penticton Herald, May 10, 1917
James Esmond Clarke
Lieutenant, Royal Canadian Artillery (1919-1944)
James Esmond Clarke was the son of son of Esmond Gosnold Clark and Dorothy Clark, of Kaleden, British Columbia. He was a Lieutenant in the Royal Canadian Artillery. Clark was killed on August 8, 1944, during Operation Totalize, a Canadian Army offensive that was meant to break through the German lines in Normandy. He was 25 years old.
George Clifford DeBeck
Lieutenant, 23rd Royal Fusiliers (1896-1917)
George Debeck was an 18-year-old bank clerk when he enlisted in the Canadian Expeditionary Force in 1914. He came from a prominent Penticton family and was a graduate of Pen High, where he excelled in math and English.
Debeck initially served in the 15th battalion of the CEF, which was part of the 1st Canadian Division. At some point in 1915, he was shot in the thigh. Several months later, after he recovered from his wound, he accepted a commission (promotion to officer) and joined the British Army. At this time, the British were expanding their armies quickly, and a veteran like George would have been seen as a valuable addition to their ranks. It was while serving with his new regiment, the 23rd Royal Fusiliers, that George Debeck was killed on February 1, 1917. He would have been 21 years old.
Donald B. Hillier
Trooper, Fort Garry Horse (1921-1944)
Donald Hilliard was the son of Wilmot and Ruthella Hilliard of Penticton. He joined the Royal Canadian Armoured Corps and was assigned to the Fort Garry Horse, a western Canadian armoured regiment. His rank was trooper, (equivalent to a private in an infantry regiment). He was killed on D-Day, June 6, 1944. He was one of 13 members of the Fort Garry Horse killed that day. Donald Hilliard was 21 years old.
Two others depicted in the banners include:
Jack H. Sammet (Pilot Officer, Royal Canadian Air Force: 1921-1943)
William J. Nesbit (2nd Lieutenant, 19th Squadron, Royal Air Force: 1895-1918)
We remember those who gave their lives in the service of Canada.
"They shall grow not old, as we that are left grow old; Age shall not weary them, nor the years condemn. At the going down of the sun and in the morning, We will remember them." – The Ode of Remembrance (Robert Laurence Binyon)