CP Holiday Train at Gage Park
The Canadian Pacific (CP) Holiday Train will return to the rails this season on its first cross-continent tour in three years, following virtual concerts in the pandemic years of 2020 and 2021. The train will again raise money, food, and awareness for local food banks in communities along the CP network. This event is in support of Hamilton Food Share.
On November 29, the roughly 1000-foot CP Holiday Train is rolling into Hamilton with 14 brightly decorated rail cars to the south side of Gage Park, along Lawrence Road at 7:45 pm.
Aboard the train will be Canadian country music stars Lindsay Ell and JoJo Mason, who will play a mix of traditional and modern holiday-themed songs to get your family into the spirit of the season at this free, family friendly concert event for all ages from 8 pm to 8:40 pm.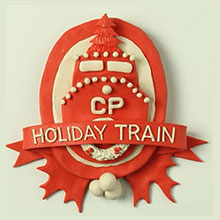 Hamilton Food Share will be collecting food and cash donations. Be sure to bring along non-perishable food contributions such as tuna, beans, rice, pasta, cereal and baby food to the event. Since the Holiday Train program launched in 1999, it's raised more than $21 million and collected 5 million pounds of food for community food banks across North America.

Accessibility
An accessible viewing area in front of the train boxcar stage is available for people who use wheelchairs and for those with significant mobility challenges (first come first served basis). One companion may accompany an individual with a disability in the accessible seating area and a chair will be provided for this person. There will be wheelchair accessible portable washrooms on site.
Lawrence Road closure
Lawrence Road closed between Cumberland Ave. and Kensington Ave. S. from 4:30 pm to approximately 10 pm. Only emergency service vehicles (Police, EMS and Fire) will be allowed access. All other vehicles will be detoured.
Getting here
Walking, biking, or using Hamilton Street Railway (HSR) buses are strongly encouraged. No on-site general event parking available.
For attendees with accessible parking permits there will be limited spots available (first come first served basis) at the Hamilton Children's Museum, 1000 Main St. East. Note: This location will require you to walk up to 10 minutes through the park to the event location. If you require closer parking at the Gage Park parking lot, 50 Lawrence Road, you must be parked before 4:30pm due to the closure of Lawrence Road.