INTERVIEW: Korn On New Album 'The Serenity of Suffering'
It was 22 years ago that nu metal band Korn released their self-titled debut album, and on Oct. 21, the group released their 12th studio album The Serenity of Suffering.
The record is the follow-up to 2013's The Paradigm Shift, which peaked at No. 8 on the Billboard 200 chart and the band's first album featuring original guitarist Brian "Head" Welch since 2003's Take a Look in the Mirror.
The Serenity of Suffering features 11 new songs, including its lead single "Rotting in Vain," which reached No. 4 on the US Billboard Mainstream Rock chart. The album also features a collaboration with Slipknot's Corey Taylor called "A Different World," and production from Grammy-winning producer Nick Raskulinecz (who has worked with Foo Fighters, Deftones, Mastodon, and more).
We recently caught up with Korn's James "Munky" Shaffer (guitar), Brian "Head" Welch, and Ray Luzier (drums), and they told us all about their new record.
On the writing/recording process of The Serenity of Suffering
All together, The Serenity of Suffering took about a year for the band to create in a small studio in Hollywood. In fact, when the band first began working on it, they scrapped much of what they had, and started over once they found their producer. The band explains that they experimented and tried something new, writing everything on an 8-string guitar, when they normally play 7-string guitars. When Jonathan heard it he said, "It doesn't really sound like Korn. I don't really hear myself singing over it." So the band went back and rewrote it, keeping a lot of the same riffs.
Throughout their on-and-off tour schedule, the band linked up with producer Nick Raskulinecz, who worked with the group until they had finished up the record by Christmas time. He had pushed the band to write without computers, which they had been using for a while. They tell us:
"We'd been writing basically to computers for a while. So Nick came in, and he was like 'No computers, we're just going to jam, we're going to do it like a band.' And I'm like, 'This guy's outta here' in my head, because it's much more hard work. But you can really tell on the album that we worked hard on it. It's got a feel about it. It sounds like a band."
In fact, The Serenity of Suffering has been described as Korn's heaviest album in a while, and the band says the guitar work has a lot to do with it, as well as the tone. "Just a lot of time spent on the guitars. We put a lot of effort into tones, making sure the tones are just jumping out at you off the speaker."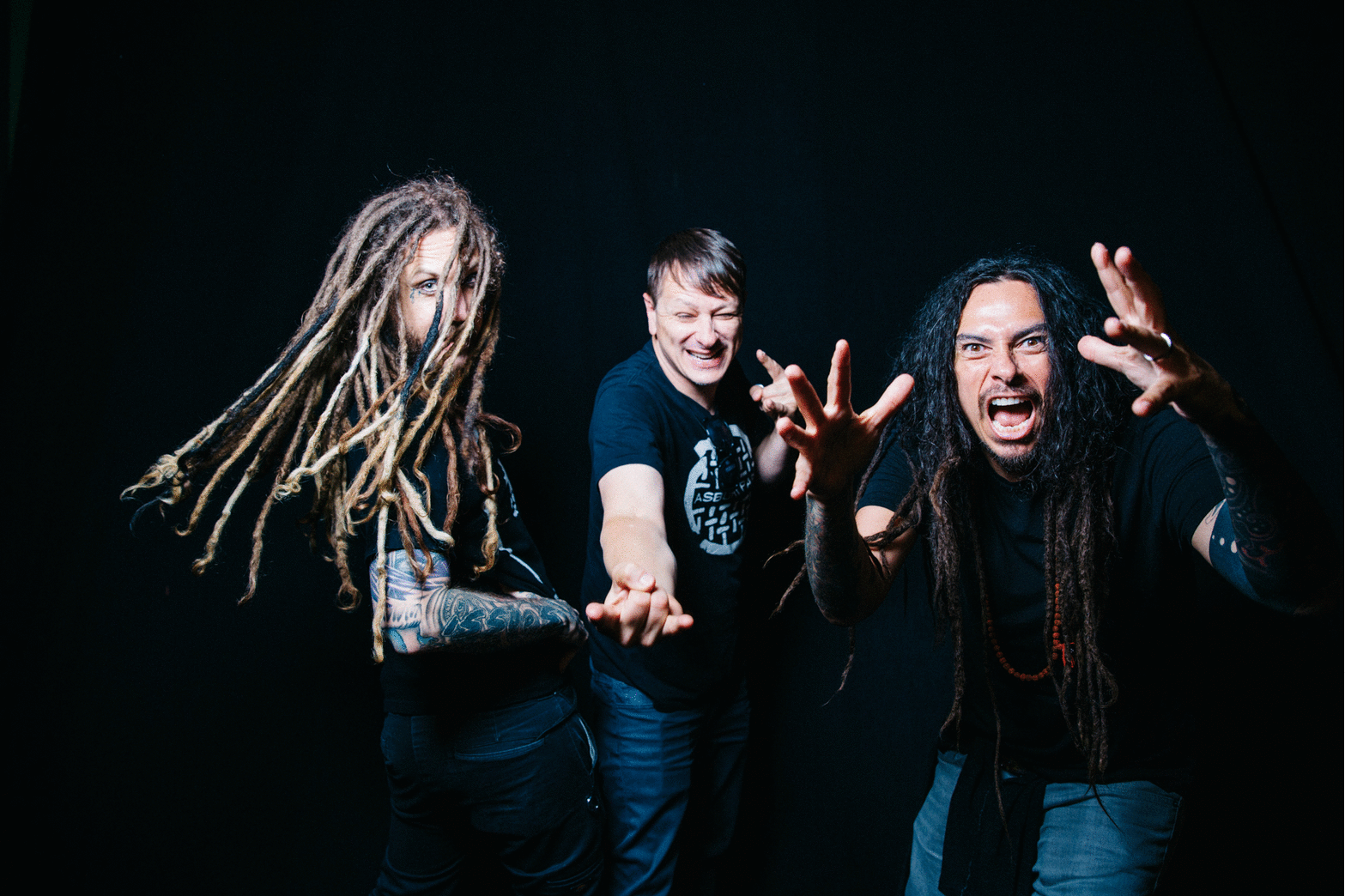 On the meaning behind the album title
The band says that Munky is the king of titles, however the final album title came from Jonathan. The guys explained that they started off throwing around words like "Chaos" and "Serenity," which got the lead singer thinking.
"Something got Jonathan thinking along those lines. He suffers a lot in life, he calls it bad luck. He just goes through a lot of pain, more than the normal person. He just said that he finds serenity in that, because if he's not suffering, then he doesn't feel himself. But the irony of it is that so many fans that hear his lyrics find serenity in his suffering because they go through the same things, and challenges, and anxiety, and problems that he does, and they relate to that. So there's that fan connection for sure. He's like a voice for the wounded, it seems like. Korn's always been more than music, it's really cool."
On the meaning of The Serenity of Suffering album cover art & how it's related to Issues
The Serenity of Suffering album cover was designed by American contemporary artist Ron English, and incorporates the well-known doll from Korn's 1999 album Issues.
"We wanted to definitely get his [Ron English's] take on the doll from the Issues album. And he did his own thing, and created this world. I think it's like the suffering world of this child that he's walking through. It's kinda dark. It's like a colorful, yet dark space. You look deep into it, you see all these details of scary things. And Ron English did the album [cover], and he did a description. So if you flip the album cover upside down, that [doll] is actually pulling the kid. So it's pretty cool when you look at it upside down."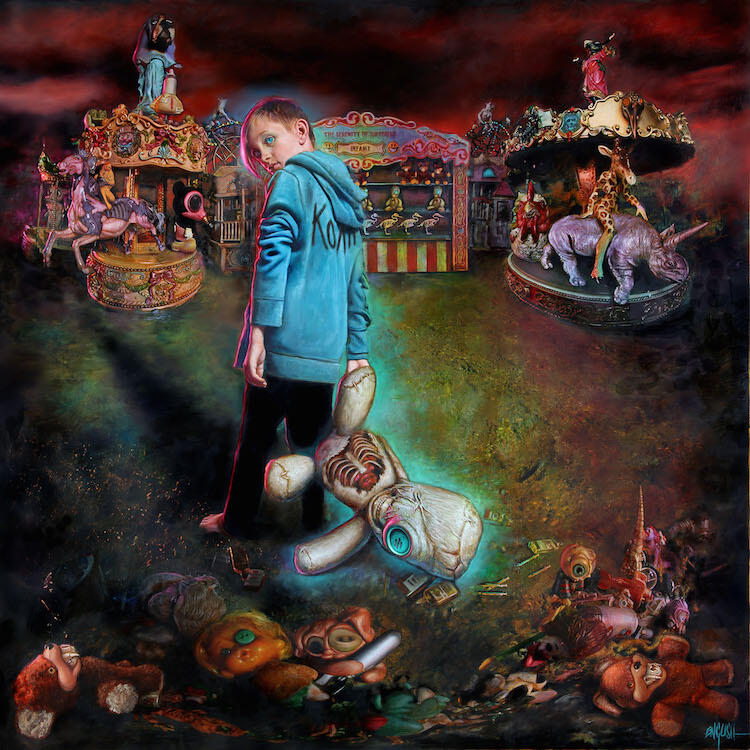 Five fun facts about The Serenity of Suffering:
1. One of their songs had the working title "Wienerschnitzel" after making a trip their one day for some chili dogs.
"Going to Wienerschnitzel that one day. No, we really did. There was a song, the working title was Wienerschnitzel because we went there and ordered all these chili dogs."
2. For a while, "Black Is The Soul" had the working title "Mary Ellen Thrash," named after Brian's mother who brought the band steak dinner at the studio.
"Another one is called 'Black Is The Soul.' At first it was called 'Mary Ellen Thrash' because my mom and dad came and brought steak dinner to us at the studio. So we're like 'We're naming a song after her,' so it's 'Mary Ellen Thrash.' I told my mom 'We named a song after you, Mary Ellen Thrash,' and she goes, 'What's it about?' [Because] she knows Korn. So she's like, 'what's going on here?' But there were no words at that point. It was all music."
3. Their producer, Nick, would rock out in the studio with a broomstick.
"One of my [Ray] favorites was Nick rockin' out with a broomstick. I'd be doing my takes, and he's like Jack Black, he comes in with his hat on sideways, and spreads his legs, and he has a broom stick, and he's like rockin' out as I'm like doing the takes for the record. It just added this really cool energy."
4. Head and Munky tracked guitars at the same time, which they had never done before.
"Head and I tracked guitars at the same time. That was rad. And we'd never done that before. It was an idea that Nick came up with, and we were like 'What? Really?' And he was like 'You guys have never done that before! You should do it!' And we did it, and it made us play better, and it saved a lot of time."
5. Ray saved the piece of paper that Corey had written lyrics on.
"I actually took the piece of paper that Corey scribbled the lyrics on and crossed off. I still have it, a piece of tablet paper. And he just left them there, I thought that was the raddest thing. Because he's so great at what he does."
Photos: Rachel Kaplan for iHeartRadio
Original article by Nicole at iHeartRadio