INTERVIEW: blink-182's Story Behind 'She's Out Of Her Mind'
On their most recent and Grammy-nominated album California, Blink-182 got pretty nostalgic with their new single "She's Out Of Her Mind." The song's sound is very reminiscent of the band's Enema of the State album, and Travis Barker himself even tells us that the song is "very much classic blink-182."
iHeartRadio recently caught up with blink-182's drummer Travis Barker, bassist Mark Hoppus, and guitarist Matt Skiba, and the guys told us all about their new single, its very familiar accompanying music video, and how it feels being nominated for a Grammy for the first time during an exclusive interview.
"She's Out Of Her Mind" was a song the trio began to work on halfway through the recording process for California, and tell us that it was actually one of the more difficult songs to write, namely the track's chorus. "We kept going back and trying to beat the chorus that we had previously." They add, "The end result of the song is about four different chorus ideas put together to make one giant bag of hooks."
This writing and re-writing is a different process for Mark, Travis, and Matt than what they're used to. They explain, "It was pretty unique about this track because normally we go with first thought/best thought, and maybe we'll come back and change a thing or two here and there. But mostly when we finish a song idea, it's pretty much finished at that point. We might come back and do minor changes, but not major structural changes like we did with this song, and it turned out really great. We love the way it sounds."
On the meaning behind "She's Out Of Her Mind"
As for the meaning behind "She's Out Of Her Mind," the guys tell iHeartRadio that the song was originally a love song for an Orange County girl, and then focused more on the girls that they themselves dated while growing up.
"The track was originally written as a love song to an Orange County girl, and the girl had, literally like Travis said, you walk in and you kind of sing the first thing that comes to your head. 'She had red lips, blue hair on the top of her head' or something like that, and we really focused it down to the girls that we dated growing up that were awesome, and a little bit crazy and a little bit dark."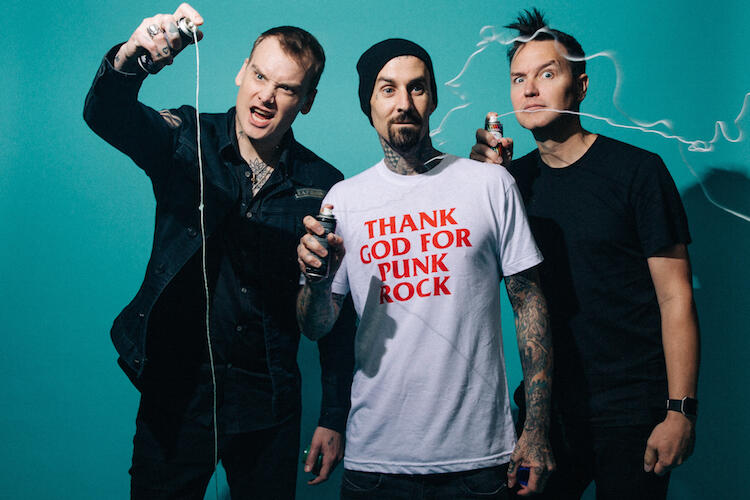 Photos: Wendy George for iHeartRadio
Life-long blink-182 fans will definitely notice a similarity in sound the sound of "She's Out Of Her Mind" to the band's earlier days. The guys tell us, "It's a song that really harkens back to Enema of the State -- that style of song. I feel like it fits perfectly into the history of blink-182, and I feel like this song kind of pulls from everything that we've done in the past, as well as pushing forward into the future. This definitely feels like song that could have come out in the late 90s/early 2000s."
In fact, the other aspect of the song that is similar their previous work is its music video. For the "She's Out Of Her Mind" visual, the guys re-created their famous "What's My Age Again" video, except they used three girls to play themselves -- Lele Pons, Hannah Stocking and Vale Genta.
On Making the "She's Out Of Her Mind" Music Video
"I just had an idea that we weren't in the video. I was like man it would be cool if there were just hot chicks being us, playing our parts. And then someone had an idea, I think it was one of our mangers, to take it a step further, and we got Lele Pons and those girls to do it. She just killed it, she was so good in that video. And then it even got a step further, and it was like wow, why don't we imitate the 'What's My Age Again' video with these girls. So we just kept building. It was a collaboration of a bunch of ideas."
And in relation to running around naked in the streets of Los Angeles in their "What's My Age Again" music video, the guys had this to say: "I think back, and I was just like 'Oh my gosh, what were we doing?' But I think they paid tribute to it well and Lele Pons looks way better than we do."
This year is an exciting one for blink-182. They were recently announced as nominees for the 2017 iHeartRadio Music Awards for Alternative Rock Artist of the year and Alternative Rock Song of the Year for their single "Bored To Death." But their album California has also earned them a Grammy nomination for the very first time! The band is up for Best Rock Album.
On what it's like being nominated for Grammy for the first time
"First nomination ever. It's exciting, it's a huge honor. It's really a big deal and something that I don't think Travis or I ever expected to happen with our band. And to be nominated by our peers like that? And to have an opportunity to go to the ceremony. I mean I've done stuff for the Grammys before. Travis has done lots of stuff for the Grammys before. But to be there as a nominee is an entirely different thing altogether." They add, "We're not really one of those bands that are like 'we're going to write a great album so we can win a Grammy.' We just love making music and have, I think, one of the strongest fan bases and the most supportive fan bases throughout however many years it's been. We couldn't do it without them."
Watch blink-182's official "She's Out Of Her Mind" music video below.
Original article by Nicole Mastrogiannis at iHeartRadio